Calling all women with graying  hair.  If you're over the age of 45 that's most likely you… whether you use hair dye to cover your gray hair or not! Are you finding that the more gray hair you have the more resources it takes to hide it? More trips to the salon… and the bank?
A lot of women have had enough.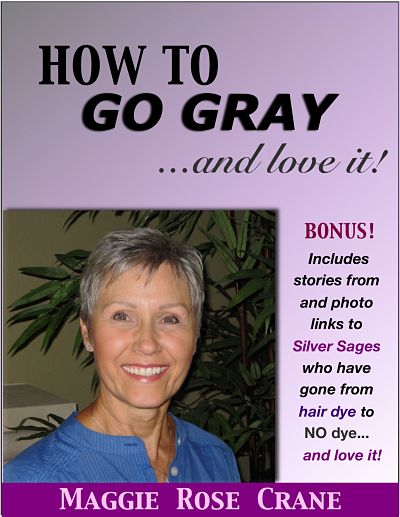 Many of us are tired of spending so much time, energy and money touching up our roots, yet don't have a clue about  how to make the switch from hair dye to no dye. Some of us are secretly wondering how we might look with gray hair – but are afraid of what others might think.  Some worry that they won't be considered attractive, lovable or relevant.  Many of us have had enough of hiding our gray hair and are ready to discover what's underneath all that hair dye, but just don't know how to take the first step.
So many women have asked me how to go gray that I thought it was time to put together an answer. The result: an e-book titled "How To Go Gray… and love it!" As a bonus, there are stories of and photo links to over a dozen Silver Sages who have already taken the plunge… because it's helpful to have inspiration on this journey, don't you think?  This book addresses the practical how to's of going gray and encourages women to confront the inner voices of doom that keep us stuck in fear and inaction. These voices simply represent our past programming and are not true!
Don't own an e-book reader? Not to worry. You can download a Kindle e-book to your computer or smart phone! You don't need to own a Kindle Reader (or Nook or iPad) to purchase an e-book. I was delighted to find out that I could download a free Kindle app to my computer (which took all of 5 minutes) and voila! – within minutes I had downloaded my first e-book (which was about how to publish an e-book on Kindle, don't cha know)
If you are looking to go gray, please check out How To Go Gray… and love it! Join the ranks of Silver Sages by sharing your "after" story and photo and become an inspiration to the thousands of women who are still wondering… Should I? Could I? How do I?
The material in How To Go Gray… and love it! is adapted and expanded  from AMAZING GRAYS -  A Woman's Guide to Making the Next 50 the BEST 50 (regardless of your hair color!) While we will all eventually become Amazing Grays, not all of us choose to become Silver Sages. That's the beauty of being a woman – we always have a choice!