Gallery of Silver Sages
The Silver Sages featured here are not urban glamour girls, celebrities or models. They are everyday women living full lives and embracing all the challenges and joys that come with honoring the authentic women they have become. While all of us will eventually become Amazing Grays,  not all Amazing Grays will elect to become Silver Sages. Here's to the power of choice!
If you decide to embrace your silver sage,  submit your digital "after" photo and a short account of  your experience about  why and how you went gray to maggie@maggiecrane.com. Who knows… you may become just the inspiration another women needs to make the decision about whether to go "natural" or not.

******************************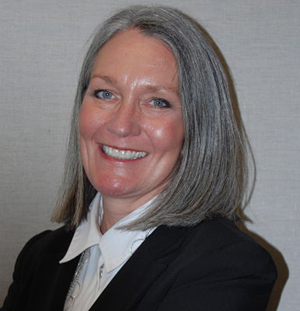 Lynne Marino
Born 1959
At the age of 44, I was in between jobs and had the February blues. Money was tight and I resented the fact that I had become a slave to my hair color. I went to Phoenix to visit my cousin Marcia for the weekend.  Marcia is always in 'hair crisis', so I never know what to expect when I see her.  I got off the plane and saw that Marcia had the best hairdo ever!  She admitted – "It's a wig"! I'd had enough of all the time and money it took to keep coloring my hair – so I dragged her to the wig store and decided it was time to take on a new challenge. From that day forward, I wore a wig for 3 years while I grew out my gray hair.  Unfortunately, I then became a slave to the wig!  It was very hard to 'come out' with my gray hair, but I decided that since I was making a career transition I would use that opportunity to have my "coming out" party. Now, I am happy to be my authentic self!
I am a financial adviser and live on the East Coast.

****************************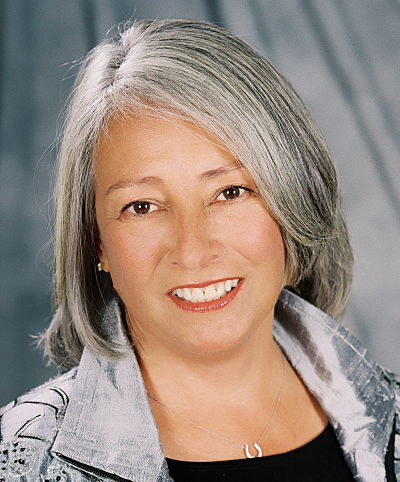 Eileen Bennett
Born 1951
My hair was controlling my life – and hairdressers were controlling my hair. Every three weeks I spent several hours at the salon, trying to look "natural." To maintain the look, I tried to avoid the sun, the beach and swimming. I washed my hair as little as possible and often wore a hat to protect the color.
My hair always looked great the first week after it was colored. Beyond that, it would start fading and my silver roots would start showing – what a joke! There had to be a better way. Periodically, I would get one of those new shades mixed in "to jazz up my face," like that burgundy tint added to brown or a nice red touch. Ugh! They were so unnatural and added a harshness that made me look more comical that youthful. Who was I trying to kid?
I was turning 50 and felt good – except for all the hassles with my hair.
While on vacation, I noticed two strikingly attractive women with silver hair. They exemplified refinement, vitality, good health and confidence. The color of their hair in no way diminished the youthfulness of their healthy appearance. I was impressed, and so was my husband. This was the look I wanted.
With these women in mind, I decided to go silver. It took several tries before I found a color specialist who would see me through the transition. My regular stylist was not supportive, saying that gray was usually not attractive and that most women were not happy with their natural color. How wrong she was.
First, my new colorist removed as much of the artificial color as she could from my brown hair. Then she added back a lighter shade. For the first time in my life, I was a blonde! I stayed blonde for the next year, gradually going from a full head of color to just streaking it as the silver grew in. Because I wear my hair long, it took about 18 months to complete the process.
I love my hair! My natural color is not only becoming, it is healthier and shiner that my overly conditioned colored hair ever was. Experts told me that my hair would be coarse and dull when it grew in. Not so! My silver hair is like silk, and I've been able to toss out my expensive hair products.
There seems to be a "club" of women who have allowed their silver to emerge. Our club does not reflect the stereotypical gray-haired grandmother. When we make eye contact, we recognize a kindred spirit; someone who had confidently accepted her maturity and embraces being a proud, vital, attractive, active women. Being young is a state of mind, not a look. I am as young as I feel, and, as ironic as it sounds, silver hair has made me feel younger than I did when I spent so much time trying to cover it up.
I have a degree in chemistry and worked as a research chemist and a regulatory analyst. I am  married and have two children, love to travel and consider my life an adventure!
**************************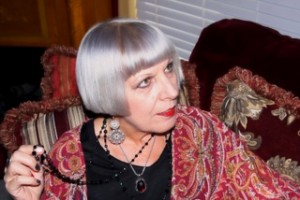 Bernadette Rezak  
Born 1948
I love fashion and style! Over my lifetime I have had my hair brunette, black. red, blonde and now I decided to go to shimmery white. I love the bob style from the 'twenties' and the combination of the Shingle Bob and the color, which is a shimmery silvery white.
By far this is the most fun look and so popular right now. It is exciting to wear colors that I could never wear before and experience how this color brings out my green eyes.
My husband loves it on me and took the photograph that I have sent along.  I encourage any woman to try this color out. I have a pinterest site dedicated to women who also love white hair.   Love Life! Love that White Hair!
***************************
Born 1947
My journey with gray hair has spanned almost 60 years. My first gray hairs appeared in a patch behind my right ear when I was just 11 years old.  As a tomboy growing up, and then, as a mother of 5 children I have always been what I call a "wash 'n go" kind of girl. Hair and make-up just took up too much time and money.
I was salt and pepper all through my 20′s and by the time I hit 40, the top was white as snow, yet the back was still brunette. Over the decades I took a lot of flack for not dying my hair, so when first lady Barbara Bush refused to dye her hair I felt like I had a little bit of company. For special occasions I would put a dark rinse on my hair because I wasn't yet ready to see myself in a family portrait with all that gray.  That worked well as it washed out in about 4 weeks – UNTIL the day my hair turned pink instead of brown!
When I was 55 my oldest daughter talked me into a makeover, which included a new haircut and a dark brown w/purple "weave!" It did make me look about 15 years younger, but again the skunk stripe that appeared every ten days was just too frustrating. After 14 months of trying to keep it up, I thanked her for her efforts, apologized for my decision and got a butch so I could get back to my gray!
During my gray haired journey I have found that it's not so much about the color as it is about the cut.  We can always make up for color with our clothes. So now, at 67 years of age, my hair is almost completely white. I wear it short and I love it!
I'm an Ordained Minister, Certified Professional Life Coach, and a joyful grandmother of ten!
*************************************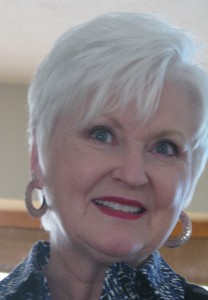 Connie Ann Powers
Born 1953
When I was pregnant with my first child I noticed a streak of silvery white starting at my right temple – I completely bypassed gray!   By the time I turned forty my short fine hair was almost completely white, even though I attempted to color it various shades of blonde. It was always difficult to "hold" any hair color.  One time I tried an ash blonde that resulted in a disastrous shade of lavender gray!
My wise daughter convinced me that my natural white hair was much more lovely (and unique) than the rainbow of blonde shades I constantly wrestled with.
I found that finally letting go and embracing my natural hair color has been such fun!  Being fair-skinned, the use of tasteful makeup and a fun cherry lip color lights me up. I get edgy cuts and wear big silver hoop earrings that have become my trademark.
I have been amazed at how many women (and men) comment on my  hair. The part I treasure most is that my beloved late father was known for his beautiful premature white hair. Now, when I look at my hair, I am reminded of him.
I am employed in Occupational Health and  preparing to celebrate 35 years of marriage to a great guy.  I dabble in photography and writing and delight in family and great friends.
********************************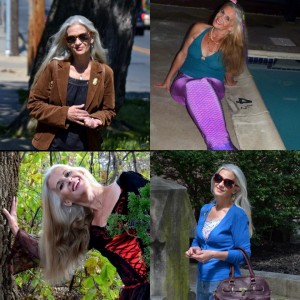 Cynthia Roth   Born 1954
For me the grays started coming in around my temples when I was about twenty. Not liking the way it looked I experimented with henna for a while. By my thirties I had switched to hair dye and my hair was a luscious dark auburn. I was raising of family of five so to save money I always colored my own hair.
In my forties I had to seriously confront the gray hair. I used chalky sticks to cover up the roots and sometimes a color refresher. My biggest dilemma was my "mermaid" hair. I didn't want to lose the length and I didn't want to use bleach. I decided the next best thing would be to slowly lighten my hair. During the next 15 years I gradually lightened my color and finally settled on a light golden brown.
At 59 I decided it was time. Knowing the elders in my family tended towards having beautiful white hair, I decided to see how I would gray. I stopped dyeing completely and only used Fanci-full Fawn color to cover the gray. I was secretly going gray and I kept using the color rinse until my gray had grown almost to my shoulders. At this point only I was able to see the white. Once the color was pretty well washed out to the shoulder length I stopped using the color rinse, and started added baking soda to my shampoo. I wore my hair in buns, braids, twists and sometimes a ponytail.  My hair grows quickly so each month I trimmed about two inches of color off. I still have a bit of color on the ends, but it was so freeing to do this! This photo collage shows how I gradually transitioned from coloring my hair to all natural.  I've always received numerous compliments on my hair, but I swear I'm getting even more now. Women often ask, "Is that your natural color?" and I reply, "Yes!! Yes it is!"
I have 5 children and 8 grandchildren.
****************************************************************
Farrel Lewis   Born 1953
I didn't start coloring my hair until I was into my 50s. I was tired of the gray streaks so, for 5 years, I dyed my hair. While I got many compliments, I also resented the time, expense and constant worrying about the gray coming in. I hated being a slave to my hair; it was ridiculous.  Soon after I experienced a very unpleasant reaction while coloring my hair (burning eyes and scalp) I began to re-think my decision and ditched the dye.
Most of my friends thought I was nuts, but my stylist was very supportive and made it pretty easy.  I have had longer hair most of my life so we just kept lopping off the length as it grew out. In a year, I was dye free, sporting a short wedge, which has since grown out.
I also get lots of compliments on my silver hair. There are those that look askance, or say that I am "brave" or that they couldn't do it, but that is their decision.  For me, it's a perfect choice, and one that I would never change. While my mother never really grayed, my father, who I was very close to, had a stunning head of thick silvery white hair. Now, whenever I look at my hair, I think of him.
Another reason I went silver is because my hubby is 12 years older than me and completely white. I wanted to "match" him better. I have no problem with my age… and my husband loves my silver look.
************************************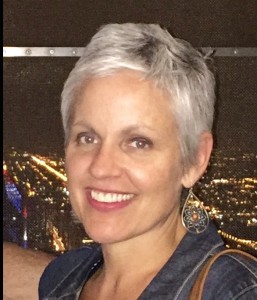 Susan Hughes  Born 1968
After battling breast cancer for the past 8 months, I have decided to not color my hair going forward. It is extremely liberating to know I am done coloring. My hair was thinning before, and I'm pretty sure coloring the roots and highlighting every 5 weeks wasn't helping matters. I feel like it's another way to embrace who I am.  Like my scars, gray hair in women in their 40′s is not considered attractive by society. I say, screw that! This is me – flaws and all. That to me is much more real and interesting, therefore, attractive, than trying to maintain some false illusion of "ideal" beauty. I have received more compliments in the past few months (even from complete strangers) on my hair than I ever had before. And my hubby likes it too.
******************************************************************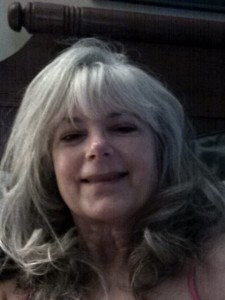 Dianne Freeman  Born 1960
I wear my natural silver hair proudly and never (again) would I color my beautiful hair. I began to notice my first strands of silver while in high school. At 25 my second son was born – in the front seat of my car no less! Soon after his birth my few strands of silver multiplied. About 12 years ago, on a whim, I did color my hair – but only once. It was simply horrible! It made me sick, was not natural looking and the color was too harsh. My hairdresser immediately cut my hair super short and worked with me to correct my horrible mistake.
I promised myself I would never color my hair again.
My hair is now a lovely, natural silver. My children have told me they do not remember a time when my hair was dark. I love my silver hair; my husband says it suits me. I have had people stop and ask if my hair is real. I also have had complete strangers ask if they might touch my hair and then tell me how beautiful it is. I am blessed with natural gorgeous silver hair and could not imagine my hair any other color. My silver mane is a gift.  It is the essence of who I am and a wonderful reminder of God's presence, living in me.
My husband and I have been married 36 years and he is the love of my life. He has watched me evolve from a dark brunette schoolgirl, to a wiser, silver headed mother and grandmother. I enjoy writing poetry, cooking, painting and building furniture in my workshop.
*****************************************************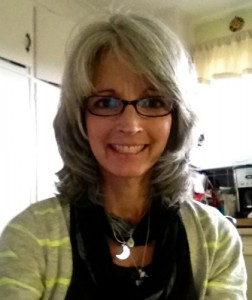 Melissa Agner                      
Born 1963
I have been going gray since my early 20′s. I colored my hair for 12 years until I finally decided I was tired of the fake brown color. I got on the Internet and searched for photos of women with gray hair. To my surprise, I found many other women who felt the way I did and they looked beautiful with their natural silver hair.
My hairdresser was an angel as she helped me through the transition. My hair was already short, dyed brown with dark blonde highlights. Over time she added lowlights while leaving some of my silver to shine through. My friends thought I was crazy, but I was determined to go natural. I decided I wanted to grow out my short haircut, which was also part of the change.
I can honestly say that I love my silver hair. My skin actually looks better now because I don't have dark hair, which created too much of a contrast with my pale skin. I love how my hair feels and the way the light can make my silvers sparkle.
I appreciate the many compliments I have received. My husband told me that it was brave of me to do it. He will never know how much that meant to me.
I have enjoyed shopping for clothes and makeup that enhance my silver hair. I realize going gray is not for everyone. It is a deeply personal choice; one that I am so glad I made. Thank you for offering this site as a support for women who may want to, or have made the decision to become silver sages.
I am a kindergarten teacher and forever young at heart!
***********************************************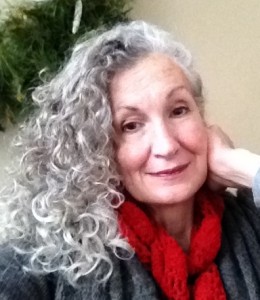 Barbara Lehman
Born 1947
I started my journey to embrace my natural hair four years ago. It was the most liberating decision I have ever made.  My first step was to stop straightening my hair and to learn to love my curls. Then after being frustrated with the dye jobs that lasted only two weeks, I decided to stop that too. I have never been happier with my hair. It's been such a joy not to have to schedule hairdresser appointments around special occasions. The money I am saving is going toward a trip to Italy.  No more roots after two weeks. No more orange, dry, unhealthy hair. It has been such a wonderful experience and I only wish I had done it sooner!
I am a grandmother to five and have been married to my college sweetheart for 42 years.
****************************************
Diane Glick   Born 1954
My dark brown hair began to gray in my late 20s so I began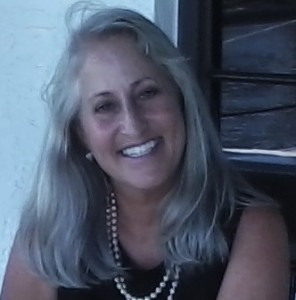 coloring my hair at a very early age.  As it became increasingly difficult for my hair to absorb the dye, we had to increase both the peroxide levels and the length of time it sat on my scalp.
Then, in my mid 30s, I was diagnosed with breast cancer and went through standard treatment. At that time I didn't link the frequent use of hair dye with the onset of cancer.
I recovered and resumed dying my hair. By my 40s I was so gray that it only took two weeks before I had a skunk stripe down my part line, requiring a touch up every three weeks. More hair dye.
A reoccurrence of breast cancer and another round of chemotherapy was the final straw. This time I was not about to fight my gray hair with chemical warfare. Instead I allowed my silver to grow in naturally.
I was surprised by the many compliments I received, often from total strangers. Today I would never consider coloring my hair. Without the toxic chemicals on my head every couple of weeks I am saving enormous amounts of time and money, not to mention my health… and I am finally feel free to be me!
While I don't know for sure, there could easily be a correlation between the chemicals in hair dye and breast cancer. I teach at a small art college and am surprised at how young some of the students are when they are diagnosed with cancer. In the past, women used henna and vegetable dyes that were much healthier. While I certainly understand the desire to feel beautiful, there has to be a less toxic approach. I am certainly not going to risk traditional hair dye a third time.
************************

Julie Williams   Born 1962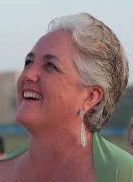 This book SAVED me. (eBook: "How to Go Gray…and love it!") I had been on the color train for about 30 years. The coloring was fun at first – I tried light brown, red, blonde and all shades of highlights.  It all looked sexy and fun until, at age 40, it became a "chore". That's when I began to lament – "If I could go gray naturally, I would."
After turning 50 this year I had some unexpected surgery, followed by almost 3 months of unexpected complications. I was left with no desire, no time and definitely no motivation to color my hair.  I took a good look at my reasons for coloring my hair and realized it was vanity – pure and simple.  And I decided vanity wasn't worth the hassle, risk or expense.
I allowed my hair to grow out while I recovered from surgery – and soon sported a white skunk line.  Comments from other women ranged from "I can't believe you are letting yourself go!", to  "Don't go gray, it will age you" to  "Why would you DO that to yourself"?  Then it hit me.  This was their deal, not mine. I knew that my hair did not define me. Illness tends to put things in perspective. As a bonus – my fiancé was thrilled with my desire to go natural.
After several months, my stylist Corinna lobbed off 12 inches of unhealthy colored mess and I was left with a short, attractive, salt and pepper head of hair. I was thrilled with the result.
I got married shortly after cutting my hair and my wedding guests were shocked, but pleasantly surprised. They could finally see the (now happy) face that had been hiding behind that crazy, curly mop and loved the change.
Now, I'm pleasantly surprised by the men that think I'm a "hot chick."  My husband loves that! Sometimes I still do a double take when I look in the mirror… but I LOVE IT!  It's the new Julie – the one that has a lot of living to do.  I have let myself go…  to the authentic me.  I feel great.  I wouldn't change a thing and wish I had had the courage to do this 10 years ago.
I am Chief Operating Officer of a Florida Law Firm.
*************************************************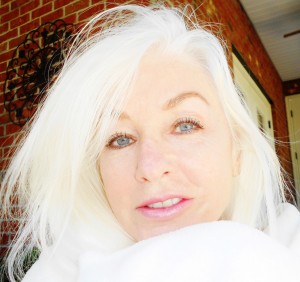 Alexandra England  
Born 1950
I began coloring my hair at age 16 as I had a gray strand or two. Fast forward 42 years and I started to have complications with the dyes. First my scalp became itchy. Then my eyes became red and puffy and I thought – this stuff is going to kill me! I had a hairdresser highlight my brown/red heavily and never looked back. I even documented the two years in photos. Here I am all grown out and grown up.  Who knew it would be off-white? I wear it straight and long. There are a few moments when I want color again but mostly I am happy – happy not to spend the time, the money or the worry. It was kind of a double whammy as my hair also started to thin due to age or thyroid. But it is what it is. And it's me. One good thing about not coloring…your hair still shines!
**********************************************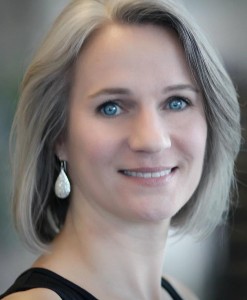 Kori Hendrix    Born 1967 (She decided to embrace her gray in her 40s!)

My first silver hairs showed up when I was just 19 – very visible in my brunette hair. Initially I tried a few highlights to blend in the silver but soon resorted to home coloring in different shades of "chocolate". After a few years I found home coloring difficult, so off to the salon I went  - every 4 weeks for the next 10 years! It was expensive but I actually enjoyed my 2-hour salon break from the world. However, by the time I hit 40 I was coloring my roots every 3 weeks and absolutely dreaded going to the salon.
As my hair became increasingly silver it also became very resistant to taking and holding  hair color.  I found myself spending hours at the salon only to have the color not take. I spent a small fortune and many hours having my hair re-done only to have my roots show after just one week.  What to do? Maybe I should just go gray? I began searching online for options.
I found The Gallery of Silver Sages at maggiecrane.com and a few other great websites full of advice and support for brave women choosing to embrace their gray. They, along with a lot of support from my daughter, inspired me to go for it. I made the decision to just stop coloring my hair. I suppose I could have worked with a colorist to ease my transition but I thought  this might  prolong the growing out stage. For me hair coloring was all or nothing… and I chose nothing.
It wasn't always easy. The first few months of sporting a skunk stripe were by far the hardest. Occasionally, I felt unattractive but I stubbornly stuck with it and I am so glad I did! During moments of doubt I talked with my daughter Sarah, my strongest supporter. She, along with my son, husband and lots of good friends' encouragement kept me focused on my goal.  Now, I am fully transitioned to silver and I love it!
*************************************
Note from Maggie: Jennifer and  Shanna are representative of a number of 30-somethings who are embracing their so called "premature" silver hair. Perhaps it's not really premature. Mother Nature doesn't make mistakes! This is the color of hair they are supposed to have.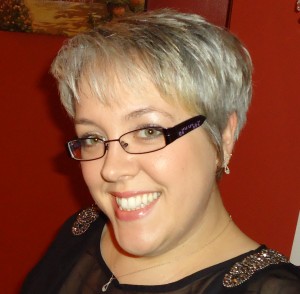 Jennifer Jones    
Born March 1981
As someone who has been coloring her hair since high school because of the stray grays that were creeping in (teenagers can be cruel), I never really knew what my natural color was. My mother and her twin sister had grayed prematurely but I hoped I might avoid that. No such luck. At 31 I decided to stop dyeing my hair and discover what my natural hair color was. I spent over $400 to lighten my dark brown tresses to a light blonde so the regrowth would not be as stark a contrast.
It took many months, but now at age 32 I am silver as a fox! At first, I absolutely hated it. I hated that it made me feel old, I hated that it was not the person I saw in my head looking back at me in the mirror. My husband and friends all claim to love it on me, so I am learning to love it too. I know I am not 50+ like the rest of the women in this gallery, but I am  honored to be in their company!
******************************************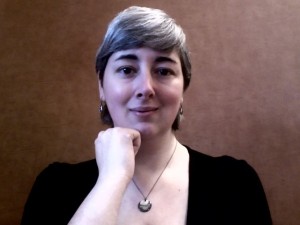 Shanna Thibeault
Born 1980
I started going silver at the age of 14.  I was a freshman in high school and while sitting in class I found my first silver hair.  It was striking against my almost black hair.  From that day on I dyed to cover anything that would make me look "old".  For years I tried different colors. My hair grows quickly and it was only a matter of a week or two until I felt as if I was a skunk with a distinct uncolored strip down the middle of my scalp.
Last year I finally had enough of chemical treatments – my hair was fried from dyes, dye stripping and bleach.  In a drastic measure I shaved my head so I could start from scratch with healthy natural hair.  It had been so long since I had seen my natural color I wasn't sure just what it would look like when it grew in.
It was the most freeing experience of my life. I am now many months into my living silver experience and I am loving it!  My head and hair are healthier than they have ever been and I now have a self-confidence that has been lacking since I started worrying about what people were thinking about my hair.
****************************************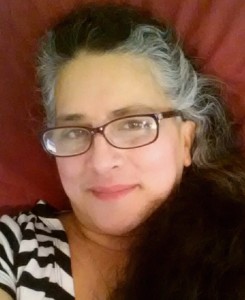 Frania Orozco   Born 1964
I first started with my gray streaks in my early 20′s and I hated it. Friends and relatives suggested that I color my hair so I wouldn't look older, which I did for many years. Now I'm 52 and I've decided to keep my gray streaks. That is my true color, that's the real me, and I love my gray streaks. It certainly draws attention. What is funny is that some people think I dye my gray streaks and they even ask where I had them done! I'm loving and embracing my gray streaks!!
I was born in Guadalajara, Jalisco, Mexico and raised in California. I'm self employed as a Spanish – English Qualified Medical Interpreter/Translator and love my job!
****************************************************************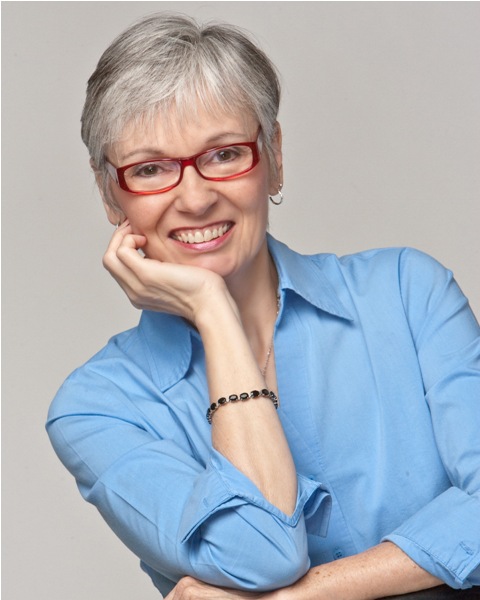 Marilyn Walker
Born 1952
By age 30 my mother was totally gray – so I kind of accepted that might be my fate as well. I thought she was beautiful, so I wasn't worried. When I started going gray at 38 – my husband wasn't as accepting and suggested that I color my hair. Frankly, I was insulted, and continued to allow my hair to gray.
A couple of years later while in a theater production, I began to change my mind. First – the hair and makeup director put me in a wig and commented that I looked great on stage and should think about coloring my hair.  Second – I saw pictures of me at the after-play parties and was amazed at how gray I actually was!
So, at age 40, I began to color my hair. After life's many emotional ups and downs and 10 years of constant hair appointments I just grew sick of the whole ordeal. With the help of my hairdresser I went from dyed, to "highlighted" to natural.
Now, I love my hair and receive lots of compliments on it. I've inspired my older sister to allow her hair to gray naturally – and we both love the freedom and authenticity we feel as a result.
I am now divorced and dating The Man That I Love. I went back to graduate school and started my own business.     Life is good!
Trained as a psychotherapist, I  own a business coaching and consulting company called synergize! – working with organizations to diagnose team dysfunction and  assisting them in becoming more productive in order to retain top performers.
**********************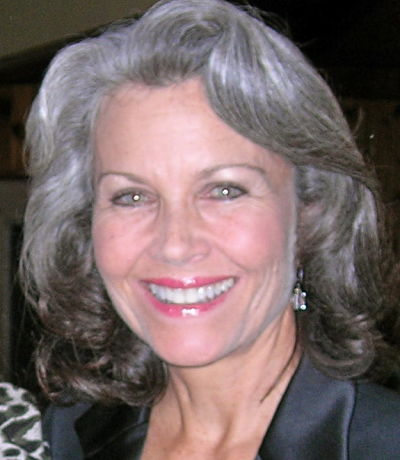 Cathleen Frank
Born 1957
It just occurred to me the other day – that out of all my friends, I am the only one who does not color her hair!
As a Pilates Instructor, I have always tried to model good health and wellness through my actions. When my gray started to come in, even though I've never been one to follow trends, I was encouraged by family, friends and clients to "take care of it." And so I did, for 9 years.
Truth is – I hated coloring my hair!  Not only were all those trips to the salon costly, I could never count on leaving with the color I came in with.  The stains on my neck, ears, and temples were often embarrassing. It honestly never occurred to me that  "going gray" was an option until just two years ago – when I saw Joanne.
Joanne had been a student of mine, whom I hadn't seen in years. She had been a slightly overweight, jolly woman, with thick, waist length hair feathered with gray. One day, while out, I spotted her husband, only recognizing Joanne because she was standing beside him. She was stunning! Her short, silver hair was fashionably spiked, she had dropped 40 pounds and looked long, lean and elegant. She now exuded a sereneness, a quiet dignity, an inner knowingness. She then shared with me that she was a breast cancer survivor. I was humbled. I was deeply touched. I had a hero.
I never went back to my hairdresser. I was ready to experience the privilege of growing older. Going gray was simply the first step.
My gray came in beautifully and I love it!  I still get compliments from women who seem amazed that gray hair can be so attractive. When I was coloring my hair, I felt flawed and inauthentic. Once I went gray, that facade melted away and "the real me" was revealed. I cut my hair VERY short like my hero, Joanne and immediately felt sassy and confident. I began wearing less make-up, and I didn't feel compelled to explain myself – to anyone, about anything. The filter that had previously protected "me" from "others" dissolved and my heart opened up as I became a better listener and friend. I was passionate about my career once again. I felt strong. I broke free from the competitive "youth oriented" nature of my career and began to specialize in "women of a certain age."
Fitness is real. You either do it, or you don't and the results are obvious. So few things are real. My teenage daughter knows that my silver hair and the lines on my face are evidence of a life that has seen some challenges, some blood, some gore, some great stories, and some effort!  What is "real" isn't always pretty and it's never easy.  My job as her mother is to be an example of what is real by how I live, what I believe and how I love. Nothing else really matters.
I am a Pilates Master Trainer and design fitness "lifestyles" for men and women over forty. I use a "no nonsense" approach to fitness, pay close attention to bio-mechanics and utilize motivational coaching techniques to create the best results for my clients.

***********************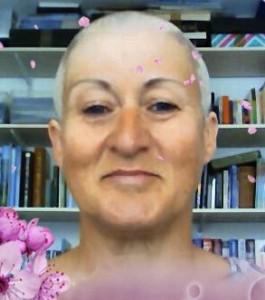 Elizabeth Downs                          
Age 55
This photo was taken just two days after I cut it all off. I began to go gray in my late thirties and still have a lot of dark brown hair, creating a salt and pepper look. I got tired of having to dye it so often as my thick hair grows so quickly. I tried to grow the dye out and kept going a shade lighter but the color looked so washed out I gave in to the dark shades of dye again.
Two days ago I decided to bite the bullet and shave it all off. I didn't let my husband know (big mistake) He was shocked, as was my family. The down side is the shock to people who love you. My two year old grandson won't let me near him. I have also let my neighbors know so that when they see me they don't think I am ill.
Then I decided to make the most of the look and put my picture on Facebook. Being a very private person this wasn't an easy decision.
I am about to go on holiday with family. I pick my moments! I'm glad I did it, no regrets. I'm looking forward to not using hair dye ever again. I feel somehow liberated, in control and I like that feeling. I do hope that my hair continues to grow quickly so I will look more feminine… and familiar to my family.
I have just celebrated my 32nd Wedding Anniversary to the best man in the world. I'm a Company Secretary and live in the UK.
**************************************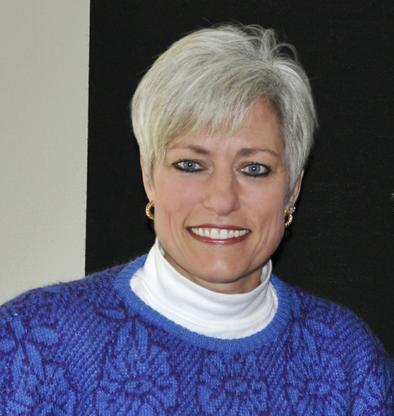 Diane Douglas  Born 1965

I began going gray in my early 20's -  and so began the long (and expensive) ride on the hair-coloring train. I was at the salon every 4 weeks to touch up the roots.  As more and more gray grew in, I went blonder and blonder until my hair was so unhealthy I had to stop. At age 41, I decided to take the plunge and let my hair go natural.  I asked my husband (who is bald and proud of it) if it would bother him if I went gray.  He replied, "honey, I've known you've been hiding your gray since our first date. I think you'll look great!"  That's when it hit me – we're not really fooling anyone with all of this elaborate, not to mention, expensive dyeing, bleaching and covering up what God has given us.
I allowed my chin length hair to grow out on it's own for 6 months, which was tough. Once I cut it short however, the process became much easier. My hair grows fast, which didn't help while I was coloring it, but for the 10-month transition from dyed to natural it really helped. Once, when my hair was mostly silver, a teenage checkout girl asked me if I wanted the senior discount. Wha?? For a split-second, I thought about going back to coloring, but I'm glad I stuck it out!
As a morning radio host I decided to come clean about my decision to go gray. For the most part the audience response was very favorable. I've had so many women tell me how "brave" I was to do this and that they'd never have the courage to do it. I tell them that it's a personal choice; I would never presume to tell someone what was right for them. My hope is that by sharing my experience through blogging and talking openly about the graying process on our morning show, some women might be inspired to embrace their authenticity and take the plunge. That would be icing on the cake!
You can listen to me weekdays from 6-10 a.m. CST on 104FM WIKY or online at wiky.com.
**************************
Born 1953
I was genetically disposed to gray early, from my mother's side of the family. It began in my mid-20s with a little spot of silver on the side of my head and grew from there.
Because I had seen how much work, effort and expense my mother and sister have gone through dying their hair, I figured it was just a matter of time before I started dying mine.
Instead, with the support of my husband who actually liked my gray hair and a hairdresser who suggested it was too beautiful to color – I allowed my hair to gray on its own schedule. This is not to suggest there weren't challenges along the way.
It took some fortitude on my part to withstand the urge to dye my hair during each of my 3 pregnancies. At the time I thought it might make me feel better – but am glad I never went through with it. Don't want that toxic dye on your head when a baby is trying to grow in your belly!
Perfect strangers provided a lot of grist for the mill as well:
Some wondered if I had my hair dyed gray at a salon? (Who would do that?)
Some thought I was my husband's mother. (He still chuckles over that one)
Some even asked if I was my own childrens grandmother. (I let them think whatever they wanted. I knew the truth.)
It was all worth it. Now, in my 50s, I have total strangers say that they love my hair. Two little girls turned to their mom in the grocery store and said that I was pretty. Women often comment on how lovely my silver hair is. Recently, I was at a stop light with my window rolled down and I noticed the man in the car next to me staring.  As he pulled away he yelled "Your hair is very beautiful."  Needless to say – he made my day!
I have found that it's important to find a hairdresser that can support you in making your silver mane your best asset. I give my hairstylist tons of credit for the way my hair looks. I have it cut every 5 to 6 weeks – but that's nothing compared to the thousands of hours and dollars I've saved by not coloring all these years. I say celebrate your authenticity by embracing what you have naturally – and enjoy the journey!
I am a real estate professional.
************************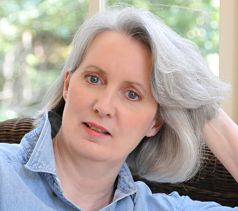 Mary Susan Vaughn
Born 1959
I started going gray when I was 25 years old.  A few gray hairs here, a few more there and soon I was coloring my hair. Initially I stayed with my natural chestnut brown, but then boldly experimented with the reds and blondes. I'll never forget the tears after getting home from having my hair bleached and blond-ed. My hair was ruined! The texture was horrible, the bounce was gone, and I looked like I just walked out of a bad Sandra Dee movie. It took an entire day back at the salon to make me presentable once again. (Which is why, in my experience, blondes do not have more fun.) Still, I kept coloring for years.
Then one day, about a month after getting my hair colored, I took a good long look in the mirror at my ever-expanding silver skunk line. Why did I keep coloring my hair when it was obvious the silver was winning? It finally hit me that the color of my hair did not define who I was! I realized that what God gave me in the way of beauty needed first to come from within. Perhaps I had been hiding behind the hair dye?
At age 47 I did the most liberating thing I think a woman could do. Yep, I shaved my head down to 1/2 inch – cutting away all the colored hair! Surprisingly – it felt really good. I felt fresh and clean, renewed and brave and proud of my natural silver hair. My husband was in shock – for about 10 minutes – then he laughed, rubbed his hand across my buzz cut and said "You know something, you look pretty good in a buzz cut.  I like the gray too." Still, I wore hats for 6 weeks until I could style my hair.
Now, while I still play around with different hairstyles, I never touch the dark stuff. I love my silver locks and am so pleased to be my natural self.
I am an accomplished artist, entrepreneur and blogger. I live in North Carolina with my husband and children. Among my many ventures, I teach fine art workshops, art appreciation and art history to children. You can find me at http://www.raisin-toast.com
  *********************************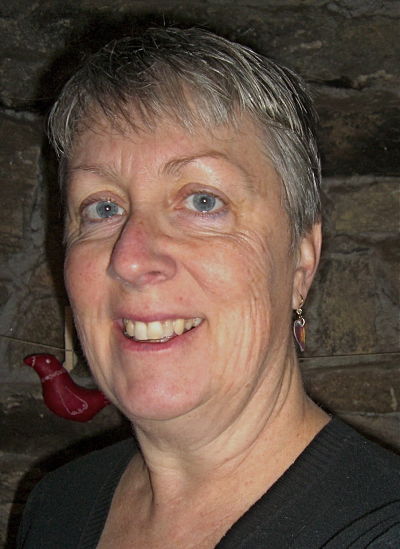 Nancy Hall   Born 1957
At 50, a look in the mirror told me I had the auburn hair of a 35-year-old, but that color was no more still mine than was the dandelion puff blond I was born with. I wasn't that baby any more, and I wasn't that 35-year-old, either. Nor did I want to be. One day in my early 50s I woke up feeling as if someone had flipped a switch: ON. I suddenly felt more vital and alive than I had in years. I tapped into a well of creativity I hadn't known how to tap into before. I regularly disappeared into the mountains for weeklong silent meditation retreats. I earned my first-degree black belt in karate. I felt good in my own skin—why not in my own hair? I decided I'd only keep coloring if I could come up with three good reasons to. Instead, I thought of plenty of reasons to step away from the dye.
I went cold turkey on the dye. Since my hair was pixie-short, it didn't take long to find out what my natural color was. Within three haircuts I found that half of my once-brown hair was now black (a gift, I think, from my dad's Cherokee ancestors). The rest? Bright silver. I love my new salt and pepper look, and so does my family and friends. It is soft, shiny, thick, and healthy. It's been great not to be tied to dyeing sessions (I did my own, but still . . .), not to be paying for the high-end coloring kits every six weeks, not to feel guilty that all that mad scientist lab stuff was ending up in our groundwater.
Most of all, I feel more authentic, and that translates into a genuine acceptance of and fondness for the rest of what comes after 50. Now when I look in the mirror I see a strong, creative, brave woman. I own those creases and crinkles around my eyes, that softening of my jaw line, the sunspots on my cheeks. And I love my silver top.
With a background in child development, I'm now a health writer, artist, art teacher, bee-keeper and traveler.
************************************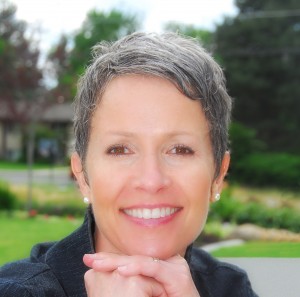 Karey Shane
Born 1962

I've never felt more beautiful, but it took me a while to feel that way. Back in the 80′s when I was at university, I saw an elegant woman eating lunch at a faculty table. Her silver hair was pulled back with a beautiful clasp and she wore a simple black turtleneck. I'd never seen a lady let her hair go gray and I thought it was stunning. While I was taking a bite of my sandwich I made a vow I would never dye my hair. But then little white hairs started coming in and growing every direction but down, so I promptly started putting on color rinses. No one had ever said anything to me about gray hair being stubborn. Little Miss Beautiful Gray-Haired Lady seemed so far away.
Ten years, an itchy scalp, and lotsa dollars later I found myself thinking about that woman who dared to wear her hair just the way it grew out: Silver. Gray. Beautiful. She carried herself with such poise. Besides, the gray was coming in so fast I couldn't keep up with touching up the roots every two weeks.
One day I realized how much I wanted to march to the beat of my own drum. At age 44, I had nothing to cover up, nothing to hide. I decided to step back and accept my beauty in whatever shape it took, wrinkles, freckles, gray and all. It took me awhile to grow out the gray, and then, wonder of wonders the compliments started coming, mostly from husbands who would say it in front of their wives as if to say, "Hint, hint honey."
If I were to do it over again, I would cut it short right from the start and get rid of the color, especially knowing all I have to do with my hair is get it wet, fluff it and put on a bit of hair spray in the morning. Done. As a fun aside, our neighbors just moved back after being away for a few years. They said, "You look younger than when we left!"
I live with my husband in the high western Utah desert along with 60+ racing pigeons, half a dozen laying hens and a stuffed rabbit named Jemima. We are the parents of seven children and five grand children whom we adore. I graduated with a BA in English with an emphasis in Creative Writing from the University of Utah back when my hair was dark brown. Naturally. I am also the author of "Secret Speakers and the Search for Selador's Gate" (as K.S.R. Kingworth).
*******************************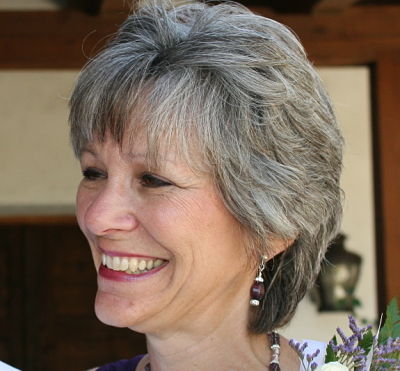 Terri Waldorf
Born 1955
Reading Amazing Grays helped educate me about the possible negative side effects of hair dye. Before, I just ignored this suspicion and kept thinking I needed to color… in order to look younger or "better". My underlying desire to stop coloring and Maggie's well-researched information was just the kick I needed to make the decision to go gray.
At age 53 I cut four inches of length off my hair and simply stopped coloring. My hope was that people would notice the cut, and not the color! Since I was already a dusty blonde, the gray was not a stark contrast.  It turned out to be a fairly painless process. My husband was very supportive about my going gray – it was actually the short haircut that he objected to. Now, he loves it all.
I have no regrets! I love my color and I love my shorter hair. I am happy to just spend a half hour getting it cut, instead of half my day getting it colored – and half my paycheck! Most surprising to me is my natural color – soft silver gray that almost looks frosted. To those of you who are sitting on the fence – I say, "go for it!" Read Maggie's book for some ideas on how (and why) to proceed, and then wait for your Silver Sage to emerge. It's worth it.
************************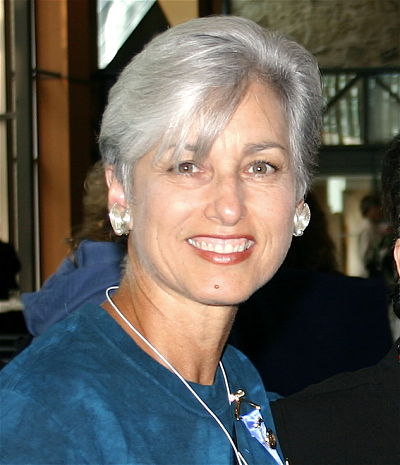 Charlotte O'Brien
Born 1950
Following in my mother's footsteps, I began going gray in my late thirties. My silver streak continued to widen, and when I was 40, a hairdresser stopped me on the street and exclaimed, "Your hair color is beautiful – I hope you never dye it!" Her kind remark validated my sense that the silver color suited me.
Then my mother died. Suddenly, the silver streak seemed to be an unwanted reminder that I would be following in her footsteps again soon enough. So, before I gave the eulogy at her funeral, and in an effort to look young, I colored my hair and erased all traces of silver.
To maintain my dark hair, it was necessary to color it every three weeks! What a bother. It was obvious to anyone who looked that I was going gray – fast. Finally, I just had enough. What was the point, and who was I trying to fool? At age 52, I decided to allow my silver to grow back in.
To accelerate the process, I had my long hair cut short. My silver hair is a different texture than my dark hair was, and it is better suited to a short style – so I've kept it that way. My husband also prefers it short – he thinks my neck and shoulders are sexy. Can't argue with that.
My women friends love my hair. They think I'm really brave. I don't think of myself as brave. I just don't want to ever be a slave to what someone else thinks I should look like. I get a lot of inquisitive – as well as admiring – looks from women, especially at the salon. I think a lot of them would like to stop coloring their hair, but either don't feel ready or are unsure of what color they'll end up with. Men still look. Boys too. Sometimes I think they think they see a blonde, and then, oops, no – it's someone my mom's age! Oh no!
For a while, I was concerned that having silver hair might limit my options. I didn't want to stay in my current job for another 15 years just because I was afraid I could never get another! No way. So rather than get stuck there out of fear – I quit.  If I do go back to work for someone else, I know that I won't be coloring my hair again. If I don't get hired, I'll just hire myself!
I have an MS in Fine Arts and am a past president of my local Soroptimist Club. I also served as manager for the California Strawberry Festival for five years. My  husband of 25 years and I  have one daughter.
**************************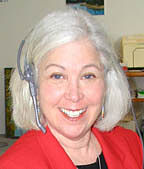 Lynn Colwell
Born 1945
I now have white hair. Half a dozen years ago, I was a blonde. Before that, a brunette. When, at age 57, I finally decided to embrace my natural color, it was an act of both practicality and courage.
On the practical side, my hair grows faster than bamboo. I'd spend an entire afternoon and a lot of money getting it colored and by the weekend, white tendrils were springing up around my face like wildflowers after the rain. Every couple of weeks I'd have to do "touch-ups," which were messy, smelly and difficult.
On the courage side, what red-blooded baby boomer wants to look old? That's what everyone assumes if you have white hair. You might as well go around wearing a Medicare t-shirt!
One day, after a bottle of hair dye slipped from my hand and sprayed the entire bathroom with shards of broken glass and globs of Medium Golden Blonde, I had an awakening.
First, I sat down in the middle of the mess and cried. While making a feeble attempt to clean up, I started thinking about why I was coloring my hair. Who was I doing it for? What was I gaining from the process and what would I lose if I stopped?
These were daunting questions I'd never considered before. I'd been dyeing my hair since my 20s. I wondered what it might be like to show who I am at this moment to the world. Would I be treated differently? How would I feel about myself if I moved against the tide? Would my hair be the beautiful white my mother-in-law called her crowning glory? Or the gray of a worn-out building? And would it matter?
I noodled on these questions until the day I was accepted into graduate school, pursuing my goal of a master's degree in counseling. I knew that the program would involve much self-exploration, and I surmised that if I expected my future clients to be completely real with me, I would have to "get real" with myself.
Letting my hair go natural became the external symbol of that monumental decision. I was pledging to be honest, to be fully myself and to deal with the consequences from the core of my being.
I find that in some venues I am invisible and in others, unique. Instead of getting upset when a salesperson ignores me (which they do all the time), I simply walk up and ask for what I want. The quick looks or lack of them, the assumptions made in a second's glance, have fueled my natural inclination to disprove stereotypes.
White hair has allowed me to experience life in a different, new, challenging, even fun way. It has forced me to acknowledge not who I wish I was, but who I am. I love it when a young person says that knowing me has helped erase some of their fear of aging. If you worry about what people will think about you if you break from the norm, consider what you may discover about yourself as you make the choice to go silver. You may be surprised!
(Edited and reprinted with permission from the author.)
I have had a varied career, from childbirth educator to corporate communications. I now serve as a life coach and have been married to the same man for 39 years.
**************************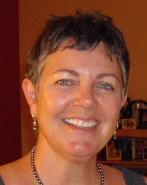 Suzanne McGoldrick
Born 1956
I've been coloring my hair since I was in my early thirties and always preferred the reds over my natural brunette.  As the years added up, I noticed my natural color was fading quickly and the gray was coming in fast, first appearing as white wisps framing my face. Soon I needed my expensive color treatments more often than my usual 6-week intervals.
I found myself faced with two options: either color more frequently or stop coloring it at all. I had been thinking of just shaving it all off so that I could be completely done with it and wouldn't have to experience the agonizing grow-out process. Then, last summer while my two daughters were visiting me and I just told my youngest – shave it off! She was shocked and amazed, but very willing to be my accomplice.
I cannot tell you how freeing it was for me to get rid of all that dried out, dyed hair color and feel (what was left of) my healthy hair again. It was a relief to not have to worry about coloring my hair anymore.
Like most women, I wasn't all that keen about growing old and looking old – but hanging on to an unrealistic delusion was more than I could take. I've seen many beautiful women over the years that have allowed themselves to go completely gray or silver and I admired them. I wanted to be like them and to grow old gracefully too. Now looking back, shaving off all of my hair off wasn't that difficult. I'm glad I did it. At age 54 I simply gave up the struggle… and now I'm free to be me!
(Note from Maggie: While Suzanne is not completely gray – her willingness to shave her head and  allow her natural salt and pepper color to surface deserves a mention!)
******************************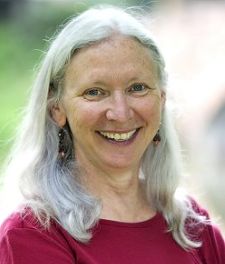 Alyce Barry
Born 1951
I noticed my first gray hairs while I was in my early twenties. I wondered if the gray hairs had appeared as a result of a major trauma I had suffered the previous year. I later learned that three of my four grandparents were gray by the age of 40, so it may have been pre-ordained. As my hair gradually turned from dark brown to salt-and-pepper, I enjoyed my more mature look. Not until my early forties, when the gray took over, did I become concerned about looking older. I began coloring my hair and was encouraged by the fact that my husband and daughter liked the effect.
I, however, never liked using the chemicals and often wondered how toxic they were. At 44, I had a midlife crisis of sorts and began making some changes in my life. Over the next 7 years I became a trained group facilitator, which challenged me to go within and reconnect with my own inner wisdom. One day, while looking at myself in the mirror, it seemed to me that a "wise woman" was getting ready to emerge. To facilitate that process, I stopped coloring my hair. When my natural color finally grew in, it was entirely gray. It took a while to get used to my gray hair and to learn how to care for it properly. Soon, friends started complimenting me on my silver hair. Though I suspect my hair might make me look a few years older than I really am, I'm very happy with it. The wise woman within wouldn't have it any other way.
I am a Shadow Work facilitator in Longmont, Colorado, and  author of the bestselling book "Practically Shameless." Learn more at www.AlyceBarry.com.
**************************************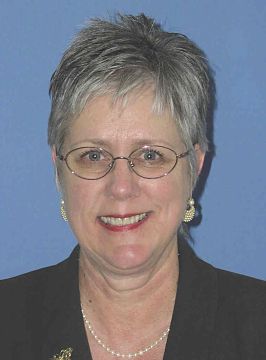 Barbara Lipe
Born 1947
I began to see gray hairs springing out of my bangs when I was in my late twenties, but paid no attention until a teacher colleague pointed out that he liked the "gray thing" happening to my hair. I yanked those wiry hairs right out.
By the time my only child was born, I was in my mid-thirties. More gray graced my hair. I did look older, probably more from lack of sleep than hair color. But I knew my mirror wasn't lying when we took our son for a family photo. The photographer – no spring chicken herself – observed that she was having more and more people bring their grandchildren in for group shots.
After that, I began to chase the fountain of youth through hair coloring. I underwent streaking, foiling, and chunking to hide the gray. Finally I graduated to all-over color. At times, my hair turned out decidedly yellow-orange. Once it even had strong undertones of green, but most of the time the hairdresser managed a soft brown with blonde highlights that pleased me. I really didn't know how much gray I had. That was until once when I waited too long for a touch up. One evening as I pulled my hair back with a headband and saw all the silver roots – my grandmother's face appeared in my mirror! I quickly made an appointment to color those roots.
As my gray hair began to resist color, that defiance sent a message. I started noticing women much older than myself who colored their hair. Platinum blonde, brick red, flat black and burgundy look shocking and somehow sad against aged skin. Several colleagues had "gone natural," and I began to see mature models, who had done the same. They smiled, full of sophistication and good health, while they danced all night or hiked the Andes.
At my next hair appointment, I announced I was ready to go gray. Everyone froze, sucked in their breath and then exploded, "Why would you want to do that? You're too young. You'll look old!"
In the face of their opposition, I had my roots done once more, paid my bill and left the salon, knowing I would not return. I was saddened by the prospect of not seeing these women again, shocked by the vehemence of their response, and determined to find someone who would help rather than try to talk me out of what I wanted.
I found him in Paul, a young stylist. Wisely, I told everyone I knew about my plan as a hedge against backing out.
When the big day arrived, I showed everyone the style I wanted in a cover shot of Jamie Lee Curtis. They mumbled, "Mmm, I don't know," or "You don't have her face." The worst comment was, "I hesitate to point this out, but she is a bit younger than you."
Undaunted, I arrived for my hair appointment that evening. Paul pulled my hair this way and that, and said, "You can handle this. It'll look great."
Each stroke of the razor left me feeling younger somehow. When he was done, I saw me in the mirror – not my grandmother. My hair was close-cropped, but funky –silver at the fringe, steel grey on the crown.
"Is this the effect of leftover color?" I asked Paul.
"No, Baby," he smiled, "that's all you."
*******************************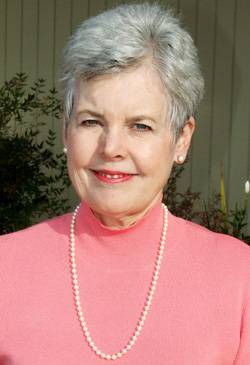 Sue Devine
Born 1941
My mother died at age 55. Her hair was a mousy brown streaked with gray, and even though she colored it, it never looked quite right. To me, she looked old. My grandmother, on the other hand, died at 99. She never colored her hair and allowed it to gray naturally. She was a beautiful person and her appearance seemed timeless. I wanted to be like her, but my fear of looking "old" was stronger.
I started seeing my first strands of gray at 25. Not wanting to look "old" like my mother, I had my hair highlighted with a light-blond color. It backfired – in spite of the cost and effort – people now asked me if I was going gray prematurely. I then experimented with at-home shampoo dyes (which left telltale halos of color on my forehead) and finally succumbed to having the color applied at a salon.
In my fifties, I softened the color and had my hair highlighted. Shortly before I turned 60, my stylist suggested that I go natural, saying that brunettes often have beautiful silver hair. The fact that I was paying her a small fortune to color my hair every six weeks made my decision even easier.
I decided to go cold turkey. My hair was multi-colored until the natural color grew long enough for my stylist to give me a very short haircut. I am very happy with my decision. My hair grew in a radiant silver color and I often receive compliments. Every month I have it cut into an easy to manage, carefree style – which reflects how I feel – carefree!
I also had my "colors" done. I found I looked best in all the bright, spring colors, as they enhance my skin and hair color. The combination of my new wardrobe, my silver hair and the added benefit of the wisdom and acceptance that comes with age have all made me feel more authentic and comfortable in my own skin. My husband and daughters love the change in me. I actually feel younger rather than older.
I spent my career as an educator, beginning as a teacher and ending it as an elementary school principal. I married an Air Force officer and have lived all over the world. Together, we have three daughters. Recently we have made the decision to move from California to Minneapolis where we are closer to our family.
*******************************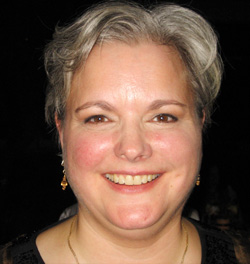 Beth Herndobler
Born 1958
Since somewhere in my teens, when I was old enough to have power over the color of my hair, I started changing it regularly, as if it was an accessory.
My family on both sides grayed early. I first started seeing some gray in my hair in my mid-20s, but it was an entirely unremarkable event for me since I was still in the changeable-color mode. My young daughter urged me to stop coloring my hair and let the gray show, saying it made me look good. I told her that when I got tired of dying my hair I would.
Fifteen years later, the thrill was gone; I had grown very weary of the whole yucky, time-consuming, stinky, expensive, coloring mess. I loved my brother's beautiful silver-gray hair, so I decided to see what mine looked like. To allow the gray to come in gracefully, I lightened my hair, highlighted it one last time, and cut it very short.
As the silver grew in, everyone had something to say about my hair! Perfect strangers would comment that the silver in front was beautiful. A few clearly missed the point when they asked why I didn't get my whole head dyed that color.
My now teen aged daughter said I should start dying it again because it made me look too old. I challenged her with her youthful statement that I looked good with gray hair, only to be told that what she had really meant was that she was embarrassed that I was so much younger than all the parents of her friends, and a little gray would have improved my motherly image!
My own mother laughingly fretted that a daughter with gray hair made her seem older, and offered to help me find a natural alternative dye –- but I was done.
Today, people still comment on the color of my hair, though only my daughter has equated being old with my silver-gray hair. Most don't think I look old enough to have a daughter her age! Guess my daughter's childhood hopes and my mother's worries were for naught, since no one seems to think the color of my hair reflects one way or the other upon my age!
Here's what I've figured out: since gaining the power to control the color of my hair as a teen, my hair color has been, and always will be, my prerogative. It isn't a symbol or sign of anything, it's just the color of my hair – and I think that my natural color suits me just fine!
I am a Chicago public-interest attorney and single mother of two – one in college and one married with children.

*******************************************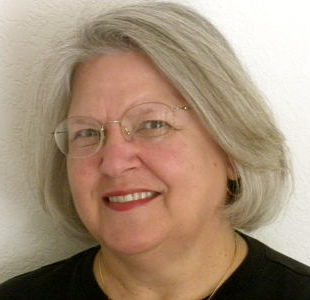 Carla Vine
Born 1950
I started coloring my hair in my early forties. My niece was getting married and I wanted a "younger" look. Lo and behold – I received a lot of compliments, such as "you don't look old enough to have a 20-year-old daughter." Wow!
All was fine for awhile. Then hubby had a mid-life crisis. After 28 years of marriage – I was faced with a debilitating divorce. I noticed my roots were grayer than ever, but I was still only in my forties. My marriage might be over, but my life wasn't! I kept coloring. After five years on the dating scene I met and married my current husband.
Early into the second year of our marriage, (I was 53) my new hubby suggested I stop coloring my hair to see how it would look. My older sister had gone gray the year before and she looked pretty good, so I thought – ok – I'll try it. After about an inch or more of silver growth I decided to do what my sister had done – I cut it shorter and just allowed the silver to grow in. While most comments I received were very supportive, I sometimes felt awkward. I thought others were thinking that it was time for me to get a dye job, but I was committed to going natural.
How do I feel about it now that it's all grown in? Well, initially – I felt old. When I looked in the mirror, I saw my grandma. I didn't feel pretty or sexy, even though my husband assured me that I was. I grew up believing that having gray hair meant a woman was old, dried up and ready to be put out to pasture. But, I really didn't feel like that version of "old". My life was better than it had been in a long time. I was in a loving marriage; we were traveling, cruising, and moving toward our goal of attending a baseball game in every major league stadium in the country. Life was good!
I realized that not feeling pretty or sexy was more a reflection of my life-long struggle with low self- esteem – and really had nothing to do with the color of my hair. Having gone through the long grow out process I was not about to dye it again. It suits my active life. Honestly, I still struggle with feelings of not being good enough, but my silver hair is looking great!
I am a retired kindergarten paraprofessional.  I have 2 children and 4 grandchildren. I am married to a wonderful, loving man. I collect matryoshka dolls and love to travel with my husband.
*****************************************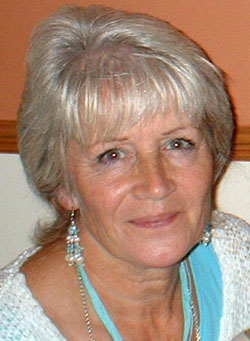 Corinne Hazell
Born 1954 Lives in England
My first gray hair sprouted when I was in my 20's. It was not a sight I welcomed and I looked for family members to blame. Was it great grandma's fault? As she was totally bald, I couldn't really blame her. (Gray beats bald any day!) My 80-year-old grandma was gray – but still sported a mahogany red mane that I suspect came from a bottle. Some other relatives had lovely silver manes so I hoped I had their genes.
In the meantime, I took to plucking the offending gray hairs. It didn't take many years for the 'odd one' to become a 'sprinkling', just in time for highlights to become fashionable. My silver streaks actually looked like lovely highlights.
My self-esteem took a hit when I went through a divorce, and my hair seemed to go white overnight. I was unsure of who I was, and my place in the world. Then, I met a younger man – and I didn't want to look like his mother! I settled on a beige blonde shade that suited me.
After 12 wonderful years together my lovely chap died suddenly. It was a huge shock to my system. As I processed my grief, I realized I had lived much of my life trying to please others, and I was done with that. In the months leading up to his death, I had gradually stopped coloring my hair. It wasn't' a conscious choice, but I felt that I needed to find the real me. At 51, I decided not to dye my hair any longer. I wasn't 'letting myself go,' On the contrary it really set me free to be me! I imagine it's like how some women must have felt when they burned their bras in the 60s – liberated!
I love the fabulous color and I want to flaunt it! This is me – white hair, wrinkles and wobbly bits –take it or leave it.
I suspect if more women broke free of the bottle they might breathe a sigh of relief. Having gray hair doesn't mean twin-sets and perms. Get a trendy style – be free!
Aging is a state of mind. While I love my natural color – I am definitely keeping an eye on how much falls out; I am not ready to be a bald granny just yet!
I was born in London into a working class family. I moved to California for a few years, and then returned to England.  I have two lovely daughters and currently live with my dog and tortoise.
*********************************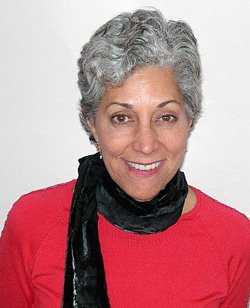 Barbara Resnick
Born 1946
Covering the gray pretty much controlled my life. Roots every six weeks, part line every three, full head whenever the deep brown had faded to brassy red. Arranging appointments to coordinate with special events often took a spreadsheet. Six months before my son's wedding, I planned my color schedule so it would be perfect for that weekend. My 40th high school reunion, which fell four weeks before, caused a serious dilemma. Did I need to look flawless for the wedding album or try to look younger than those popular girls from the class of 64?
I began to dye my hair in my mid 30's. While my mother's hair was a gorgeous silver – I didn't want to look as old as my mother! Once I began coloring however, I was stuck in a vicious cycle.
I often resented the time it took from my already too busy life. I worked full time, had two growing sons, a big house and a husband. I was a serious runner, long distance biker and tennis player. But somehow, I always found time to do my hair.
I thought about going gray a lot. I fantasized that I would let my hair grow out during the summer and wear a baseball cap everywhere I went. I would take an extended vacation and come home as the new me. I spoke constantly about the pros and cons of going gray with my friends. They advised against it. My otherwise loving husband was less than supportive. I asked my colorist what she could do to make the transition easier? Could my hair be dyed gray, or streaked silver? "Unfortunately", she lamented, "the only way through is to tough it out." I always thought that I would wait until I turned 60, but as that pivotal birthday got closer, I thought…maybe 65.
And then it just happened. Right before my 60th birthday, I made my usual three-week part line appointment – then just decided to cancel it. I had had enough. My husband was surprised at how comfortable I was walking around two-toned. I didn't try to hide my "work in progress", and never expected to be so content with my new look. Each haircut is a bit shorter and my new do looks classy and sassy at the same time.
I love my silver hair! How lucky I am to have inherited this from my mother. I feel liberated and deliriously happy about my decision. I am also deliriously happy about the arrival of my first grandchild! Grandmas are getting cuter all the time.
I am an Educational Specialist for a major hospital.
*************************************